This fall, I took a 2-week solo trip to Italy. The primary cities I visited were Rome, Florence, San Gimignano, and Siena, with brief stops to San Miniato, Volterra, and Fiumicino. This is part 1 of a series of posts recapping the trip.

Travel and Lodging Plan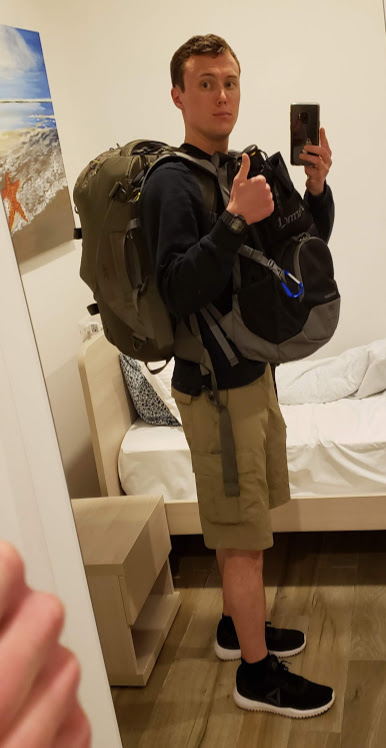 My flight was in and out of Rome, and I booked all of my lodging prior to the trip, so I knew where I would be each night.
For the bigger, more expensive cities (Rome and Florence), I booked beds in hostels; private rooms for the other towns.
All of my accommodations were near enough to the city centers, and the main sights, that I expected to be able to walk most everywhere within the cities. For city-to-city travel, I did a bit of research about how the trains typically work, but did not have a concrete plan.
To stay light, and make traveling between cities easier, I only traveled with two backpacks. I brought along enough clothing for 1 week, planning to do laundry once during the trip.
Itinerary
I booked guided tours for the mornings of the first two days of my trip, in Rome. Beyond that, I did not have anything scheduled. What would fill the rest of my days, and how I would get around, I mostly left to figure out on-the-fly.
The one strategy I employed, which worked out well, was to tag locations that I thought I would like to visit, in Google Maps. Then, as I went about my days, I could remain flexible but be able to quickly check if I am near any landmarks I had tagged.
Italian language
For two months prior to the trip, I made an effort to learn some Italian. My two main resource were Duolinguo and Language Transfer.
I found Duolinguo to be a decent resource for picking up vocabulary, although there are many words that are taught early in the course which would not be likely to come up in typical tourist conversation. I was really impressed with the approach of Language Transfer, as it works to build your understanding of the new language while incorporating sentence structure from the beginning. I think this would be a great resource if your goal is to become fully fluent; but for my purposes, it didn't fulfill the "crash course" style I was looking for.
Ultimately, I found that the quickest way to pick-up the simple words and phrases I would likely want to use would be to:
Think of the situations I would likely find myself in.
Imagine what I would need to say, on my side of the conversation.
Run the word or phrase through Google Translate.
Or, just Google the phrase + "in Italian" and often you will find advice from a fluent speaker, providing additional nuance.
In Italy, if you say "un caffé", it is implied that it is an espresso.
Now that the trip is over – I would say that learning some Italian, while fun to try-out, was not at all necessary. In most interactions (with waiters, hotel clerks, museum staff, etc.), the locals spoke English quite well. Perhaps the best phrase to know, in order to be polite if spoken to in Italian, would be "non parlo Italiano" (I don't speak Italian).